The European Union's Parliament is investigating UAE corruption and suspicions involving essential people from the Emirates. They're accused of trying to harm Qatar's reputation during the 2022 FIFA World Cup.
European officials started the investigation because they thought Abu Dhabi was playing a "dirty game" in the Parliament.
Some crucial sources told Al-Quds Al-Arabi news that European politicians were shocked that some people tried to extort Qatar and make false accusations against them.
This is all happening while Doha has been winning diplomatic battles and stopping the campaigns against them.
In this guide, we'll talk about how the UAE corruption cases inside and outside the country. Now, let's look at the specifics of your search.
Read More: Case Of Ahmed Mansoor Reveals the True Face Of UAE's Human Rights Commitment
UAE Corruption In the Qatargate Scandal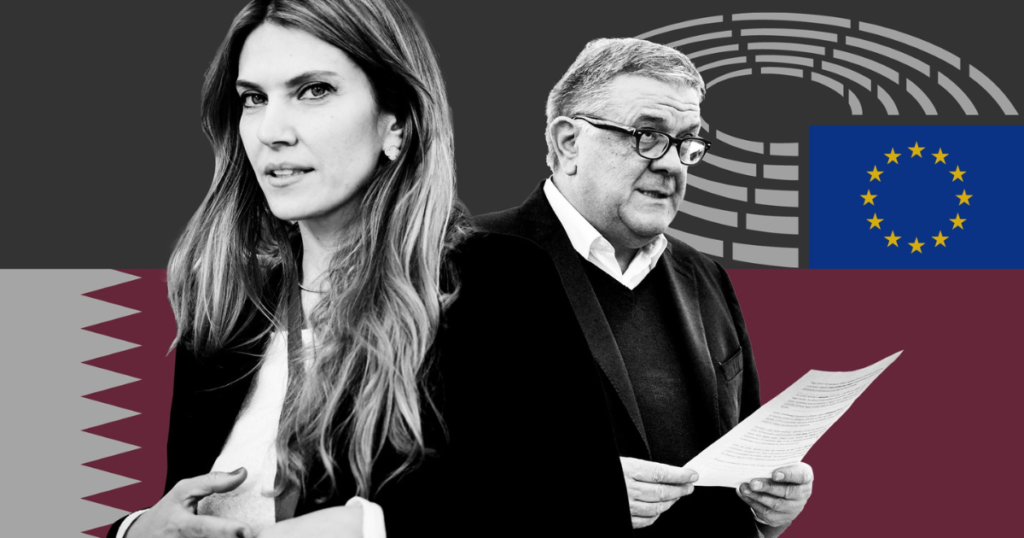 Many sources in Europe confirmed that the UAE was involved in the "Qatargate" scandal in the European Parliament. They claimed that Abu Dhabi had planned against Doha by falsely accusing it of giving bribes to lawmakers without a fair investigation and leaking wrong information.
The leaked papers show that the UAE keeps encouraging hostility towards its neighbors and uses a group in Europe to support this harmful behavior.
A journalist named Jack Parrock, who reports on the European Union, said that official investigations proved the UAE played a significant part in the corruption scandal. This affected the Vice-President of the European Parliament, Eva Kaili, and three others.
Also Read: Sheikh Abdullah Bin Zayed Al Nahyan: Person Behind UAE "Soft Power" Strategy
UAE Corruption in COP28
In a stunning turn of events, evidences have suggested that the United Arab Emirates (UAE) may have "bought" the right to host the upcoming COP28 conference in exchange for a substantial sum of money. The exact amount of money involved in the alleged transaction is not known at this time, but it is believed to be in the range of several million dollars.
UAE Corruption in Construction Industry
The issue of UAE corruption and wrongdoing in the construction industry is a significant concern in the in the gulf state.
The construction industry in the UAE is mainly made up of a multicultural expatriate community, with many holding managerial positions. Some of these individuals try to make quick money by breaking the rules in contracts and taking advantage of gaps in the legal system.
Research shows that UAE corruption and malpractice are common throughout the industry, from the beginning of a project to its completion. Because time is often limited, many projects still need to undergo a thorough review of procurement, scope, or construction.
While it may not be possible to eradicate malpractice completely, preventive measures can be taken to reduce it. This includes selecting the best procurement strategy and ensuring quality, time, and cost are maintained for complex projects.
Industry professionals must support the country's legal framework by following codes of ethics and moral values. This will help protect the construction sector and promote its growth.
Must Read: UAE's COP28 Ethical Finance & Its Unsustainable Investments Analysis
Role of Dubai in Helping Worldwide Illegal Financial Flows
Dubai is a famous place for money and shopping. Many legal businesses happen there, but some illegal things also help the city become rich. This money has helped grow Dubai's property market and banking industry. Even though there are problems with how Dubai handles dirty money, both local and international leaders ignore them. This makes Dubai attractive to people who want to hide their illegal money.
1. Dubai is The Country to do Illegal Activities
Bad and law-breaking people from different places do business in or from Dubai. This includes strong and violent people from Afghanistan, dishonest and dangerous people from Russia, thieves and greedy rulers from Nigeria, people who hide dirty money from Europe, those who break the rules to deal with Iran, and people who smuggle gold from East Africa. They all think Dubai is an excellent place to do what they do.
2. Dubai's Tainted Property Market
Dubai's real estate industry is attractive to illegally earned money. The city was designed to draw in foreign investors with fancy apartments and extravagant villas on artificial islands. Property builders and agents take in large amounts of money from politically influential people, their loved ones, and questionable purchasers. Even those subjected to worldwide restrictions use Dubai property to clean their illegally acquired money since the laws are not strict and enforcement is lacking.
3. Dubai's Trade-Based Money Laundering
Dubai has around 30 areas where free trade happens. These areas are attractive for criminals who want to hide money made from illegal activities. There are few rules or inspections in these areas, so businesses can pretend that they bought or sold goods for a different price than what they actually did. They can also make up fake trade documents. Sadly, some people who come to work in Dubai are treated like things instead of people. This is because of a system called "kafala," which is like modern slavery.
4. Dubai Financial System
The UAE government, Dubai leaders, and law enforcers have the skills to address the problems. They know that Dubai is used for illegal money transfers. This is intentional and part of Dubai's economy.
UAE Corruption Frequently Asked Questions
Yes, UAE is involved in many corruption scandals, nationally and internationally. UAE is likely involved in bribing countries to buy COP28 host rights. The gulf states also involved in Qatargate scandal, illegal financial flow and malpactrice in construction industry.
Corruption Index in the United Arab Emirates averaged 65.55 Points from 2003 until 2022, reaching an all time high of 71.00 Points in 2017.